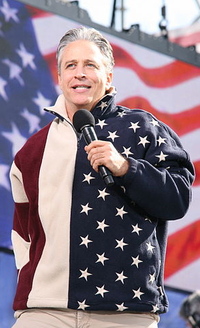 The New York Times once ruled the world as the premier source of news and information.
Publisher Arthur "Pinch" Sulzberger, Jr. continues to drive the formerly great paper into the ground. A caricature of what his father built, the Grey Lady is now a sad joke.
Most recently a "news analysis" article credited comedian Jon Stewart with passage of the 9/11 responders bill to overturn Republican filibusters that represented ""an outrageous abdication of our responsibility to those who were most heroic on 9/11."
Did the Democrat party actually write the article published under the names of Bill Carter and Brian Stelter? It could not have been more slanted toward their point of view if Nancy Pelosi had penned it herself!
Senator Tom Coburn (a Republican) did delay this legislation (already a decade after the incident) a few days more….in order to eliminate billions of dollars in federal pork. In case the New York Times reporters are oblivious to this information, the U.S. government is currently drowning in debt. We cannot afford to squander the inheritance of our children any longer.
Taking care of those who served nobly on September 11th is certainly the right thing to do. Eliminating billions of dollars in payments to attorneys by capping legal fees associated with those payments is prudent, responsible and it was also the right thing to do.
Senator Tom Coburn is a hero for standing up for the American taxpayers in face of harsh (and misguided) public criticism like that coming from the New York Times. Our federal government must stop spending tax dollars like drunken sailors on weekend leave.
No longer the standard bearer, the Times lacks any credibility as an objective source of information. Comparatively speaking, they do make Jon Stewart resemble Edwin R. Murrow, but it is a pale reflection created by a serious lack of competition as a credible news source.