SPOILER ALERT — plot details are included.
I freely a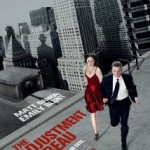 dmit that I'm not a huge fan of Matt Damon. I don't go out of my way to see his movies.
Actually, the truth is that I rarely go out of my way to see anybody's movies. I do like his movies better than Ben Affleck's, for what its worth.
After all, Damon didn't make Gigli.
And he was decent enough playing amnesia victim/master assassin Jason Bourne in the series of movies with remarkably improbable plots, but killer action sequences.
Casino Royale, which introduced the modern version of James Bond, would not have been nearly as good if The Bourne Identity hadn't inspired its director, Martin Campbell.
On the other hand, all Damon did was say words other people wrote and pretend to be someone he isn't. My opinion of actors has been adversely affected by hearing them speak off camera, I do admit.
Yet this weekend, I spent a couple of hours watching a Matt Damon movie I knew nothing about, The Adjustment Bureau.
Mostly, I felt like watching a movie because my body hurt too much to do anything else, but that's another story.
The timing was simply exquisite. I was still a little irritated that I recently spent time (and money) reading Sam Harris's book Free Will, which proved to be a monumental waste of my time, just as I had anticipated.
I turned on the television and tuned in just as the movie was starting. I only missed a few minutes in the very beginning, and the opening credits. Big deal.
It had been small consolation reading Free Will gave me an excuse to write something for my blog. I'm more in tune with the philosophy that if you don't have anything nice to say, don't say anything.
I certainly didn't have anything nice to say about  Harris's book.
I won't say that I liked The Adjustment Bureau, either.
I loved it. Really loved it.
I'd have to see it a few more times to rank it against my all time favorites, such as As Good as It Gets, The Princess Bride, etc. but I don't need to see it again to highly recommend the film.
It was clever, well-acted, and very well written.
If you combined the plot of The Time Bandits with The Princess Bride, you'd sort of be on the right track following the plot of this movie, based on the short story by Philip Dick.
Damon plays David Norris, an aspiring politician who meets his true love, Elise, during a chance bus ride. The only problem for David is the power controlling the universe apparently disapproves of their union. Caseworkers (angels) sent by the Chairman (God) intervene to end their romance before it ever begins. They are members of the Adjustment Bureau.
Norris is kidnapped. Elise's phone number is taken and destroyed before he can call her. Without even knowing her last name, he's left with no hope of ever finding her again.
However, David Norris is one determined young man, and he's in love. He persistently searches for Elise until he finds her a second time, knowing all the while that the same people will interfere once more. Most caseworkers in the Bureau only care about carrying out their assignments.  One named Harry grows sympathetic to the lovers, even to the point of helping David overcome the incredible odds against his having a relationship with Elise.
After all, David is going against The Plan, as recorded in notebooks the caseworkers carry with them.
The Plan represents a deterministic world, where free will is merely an illusion. There are forces in the universe, these angelic caseworkers wearing spiffy fedoras, that enforce this plan and conspire against our natural desire to exercise free will. Nonconformity is not an option.
Or is it?
David's solution is bold, yet simple and straightforward. He values his relationship with Elise above everything else, including power and fame. He's willing to risk it all for her. So he wants to meet the author of The Plan, the Chairman, to argue his case and have The Plan changed.
But then Harry reveals he's already met The Chairman and didn't know it.
At one point, David asks, "Is this some sort of test?"
Harry answers, "In a way. It's all a test."
Harry eloquently sums up the debate about a deterministic world in an aside to the audience: "Most people live life on the path we set for them. Too afraid to explore any other. But once in a while people like [David] come along and knock down all the obstacles we put in your way. People who realize free will is a gift, you'll never know how to use until you fight for it. I think that's The Chairman's real plan."
Free will is a gift, the second greatest given to mankind.
The "Chairman's" greatest gift of all is the gift of life, and our ability to love one another.