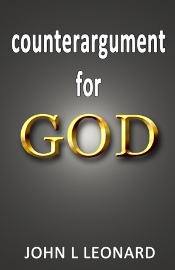 Dear Dr. Coyne,
I'll do my best to get right to the point. Your reputation as one of the world's foremost experts on speciation theory precedes you.
You are a well respected scientist and educator. I am but a student of those fields in science necessary for any attempt to answer my existential questions.
Although I've been called a teacher, my background is not in education. By profession, I'm an author, certainly not a scientist. My strong preference is for writing detective novels.
However, in the spirit of full disclosure, I should divulge that my most recent book, published this past Easter Sunday, has the title Counterargument for God.
I should probably also mention that your advocacy of naturalistic evolution is one of the arguments that I endeavored to counter and defeat in my book. I meant no disrespect.
It just happens that I have very good reasons for believing that you're wrong to assume that supernatural intelligence played no role in your existence or mine.
Now, I've read Why Evolution is True, but I cheerfully admit that I don't yet quite understand the biological processes allegedly at work. I still have a few questions about your specific field of expertise, if you'll be good enough to answer them.
Your USA Today article written not too long ago asserting that you can be good without God gives me some hope that you will cooperate, even though I suspect David Berlinski may have doubts.
If I never ask my questions, you won't have the opportunity to respond if you so choose.
True, you have expressed some disdain for creationists in the past. You may decide to ignore me, but that will only reinforce my suspicion that you can't answer my questions.
And if it helps, as far as I'm concerned, we can leave the Bible and religion out of this discussion in order to focus purely on the science.
Let me reassure you, my mind remains quite malleable.
By your own broad definition offered at Harvard, apparently I fall into the forty percent category of Americans you have suggested are "dumb or perverse" for not believing speciation has occurred.
However, you didn't call speciation theory by its proper name. You called it "evolution." The terms are not synonymous.
Please look at my request for information this way — I'm giving you an opportunity to improve on that statistic that troubles you so much. Without further ado, let's get started.
Evolution simply means change. Of course things change. The real question is, can organisms shape-shift, simply by means of DNA recombination achieved through sexual reproduction?
My first question: How does the theory of speciation actually work in real life?
I'm fairly sure that I know how it's supposed to work. Please allow me to illustrate my current understanding of the process, formed in part by reading your book.
A small population of one species becomes geographically segregated from other members of its species, isolating its gene pool. That population only breeds with other members of its population, never coming into contact with other members of the ancestor species, until a biological split occurs after many generations of genetic recombination. Mutations aggregate until new genes can be identified in the genome identified as belonging to the ancestral species that are unique to the descendent species.
Voila! We now have a new species of organism. It all sounds so easy.
It's much too easy, in fact.
Please forgive my skepticism, but there seems to be a missing piece to the puzzle. The process I just described could be argued as nothing more than natural selection.
Certainly, these processes can explain variety within a species, but not the creation of a new and unique organism.
Given enough isolation, time, and genetic recombination, it's quite easy to see how astonishing variety can occur with a given morphological form, but not how drastically different morphological forms emerge from common ancestry.
Quite frankly, the idea that sexual reproduction involving two members of the same species could produce a different species seems to violate our known "laws" of biology. Humans produce baby humans, apes produce baby apes, and so forth.
Your theory of speciation asserts that with isolation of a gene pool and time for mutations to become permanent, apes produce something other than apes, like Australopithecus, for example.
Perhaps Australopithecus remained segregated, and over time split again to form Homo Habilis. It's an interesting theory, but hardly a fact.
We are merely using the same evidence, comparative anatomy and genetics, to reach different conclusions.
The idea of naturalistic evolution becomes especially suspect when one realizes that from this same, basic biological function, organisms as diverse as trees, crabs, worms, eagles, gulls, flies, fungi, apes and humans allegedly share common ancestry. Sexual reproduction performed by two members of the same species, provided sufficient isolation and allowed enough time to mutate beyond all recognition, apparently allows organisms to shape-shift, if your theory is right.
When the parents are from different species, the offspring are invariably sterile. This means that speciation must occur when members of the same species procreate.
I don't mean to disparage your work with Drosophila, but variation and adaptation within a genome isn't the same thing as genetic mutation that becomes drastic morphological change, with all due respect. No offense, but I'm really just not all that interested in the sex life of fruit flies.
I'm already quite familiar with the mating process of two members of the same species. My wife and I have two children, and three grandchildren.
The stork didn't deliver them; an obstetrician did.
Therefore, you may safely assume that I understand the mating and birth processes quite well. What I still don't understand is how speciation could ever occur without violating those biological processes I have observed in situ.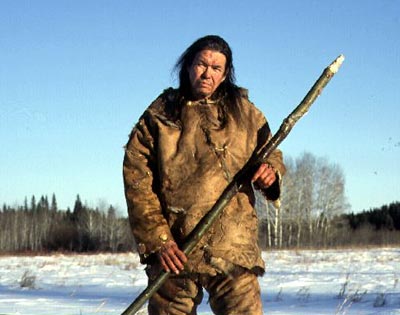 Two members of the same species produce fertile offspring and perpetuate the species. On those rare occasions when two members of closely related but different species mate, the result is a sterile hybrid.
Members of significantly disparate species, like humans and horses, usually don't even try. That sort of true perversion often results in death.
Now if you can tell me how the biological process of sexual reproduction involving two flies of the same species could produce both fruit flies and butterflies, I'm all ears. If you can truly explain the relationship by descent of the butterfly to the butterfly bush, that's even better.
If you will be so kind to explain the nature of the cousin-ship between the crab and the conifer in graphic detail, I promise to give you my undivided attention.
However, if you can't identify the specific biological processes that allow these miracles, perhaps you should reconsider your claim that your theory of evolution is irrefutably true, because you obviously can't prove it or adequately explain the process by which it occurs.
In Why Evolution is True you wrote,
Speciation is a splitting event, in which each ancestral branch splits into two twigs, which themselves split later, and so on, as the tree of life ramifies. That means the number of species builds up exponentially, although some branches are pruned to extinction. How fast would speciation need to be to explain the current diversification of life? It's been estimated that there are 10 million species on earth today. Let's raise that to 100 million to take into account undiscovered species. It turns out that if you started with a single species 3.5 billion years ago, you could get 100 million species living today even if each ancestral species split into two descendants only once every 200 million years. As we've seen, speciation happens a lot faster than that, so even if we account for the many species that evolved but went extinct, time is simply not a problem.
Time appears to take on magical qualities in your concise explanation. The problem is, you seem to have grossly misrepresented the amount of time available for these drastic processes to happen.
We both know that if speciation really took 200 million years to split one species into two, Lystrosaurus would never have evolved into dinosaurs, correct? There was only 150 million years between the Permian and Cretaceous extinctions, the age of the dinosaurs. And complex life wasn't plentiful until the Cambrian Explosion, which occurred only 530 million years ago.
There have been multiple mass extinctions since. According to simple arithmetic, the rate of evolutionary change has to be much faster than what you have suggested. In actuality, there doesn't seem to be any known rate of evolutionary change.
Which leads me to…
My second question: how do you reconcile the long periods of stasis indicated by the fossil record with the Darwinian idea of slow and gradual change?
Please excuse me for questioning your authority in this regard, but according to the paleontologists, the fossil record apparently doesn't support the Darwinian idea that new species emerge through a series of slow, incremental changes.
That's why Gould and Eldridge proposed punctuated equilibrium, isn't it?
The repetitive pattern found in the fossil seems to be one of jerky, episodic events. New life seems to appear in an "explosion" of activity, followed by a long period of stasis and then mass extinction, correct? Forgive me if I'm wrong, but it seems that you have determined isolation of the gene pool is critical for true speciation to occur.
In fact, you also wrote in your book,
The idea that geographic isolation is the first step in the origin of species is called the theory of geographic speciation. The theory can be stated simply: the evolution of genetic isolation between populations requires that they first be geographically isolated. Why is geographic isolation so important? Why can't two new species just arise in the same location as their ancestor? The theory of population genetics — and a lot of lab experiments — tell us that splitting a single population into two genetically isolated parts remains very difficult if they retain the ability to interbreed. Without isolation, selection that could drive populations apart has to work against the interbreeding that constantly brings individuals together and mixes up their genes.
So, if I understand you correctly, isolation or geography plays a crucial role in speciation.
As far as human evolution is concerned, using human evolution as the illustration, it seems the explanation you have suggested for how speciation occurs is that about four million years ago a small population of breeding primates split into apes and Australopithecus.
The new Australopithecus genome must have remained isolated for an extended period of time, because as you stated above, interaction while the two different species retained the ability to interbreed would cause the collapse the new genomes. Presumably, Australopithecus split into Homo Habilis and other intermediate species until homo sapiens emerged.
Perhaps your theory is theoretically possible, but it's hardly an incontrovertible fact.
Dr. Coyne, how does this isolation occur in an ocean?
The cichlids in Lake Victoria didn't differentiate into trout, flounder, bass, or mackerel — they "evolved" into roughly 600 varieties of cichlid. Yet the coelacanth allegedly hasn't evolved for 340 million years, and it lives in the ocean.
The more we scrutinize speciation theory, the less it makes sense or seems possible.
My third question: In your lecture at Harvard, you offered examples of the vas deferens tube location in humans and allegedly vestigial organs as examples of poor "design" by nature. You were using comparative anatomy to form your professional opinion.
Yet when someone such as myself suggest that sophisticated innate abilities such as echo-location navigation, observed in both bats and dolphins, offers us an excellent example of brilliantly intelligent design, again using comparative anatomy, the suggestion is met with scorn and ridicule.
Why is comparative anatomy useful for you to interpret as evidence of unintelligent design, while more obvious examples of intelligent design are declared a beguiling illusion? Could it be due to your personal bias toward atheism?
My fourth, and final question: Until life exists, how can it evolve?
At Harvard, you suggested that evolution theory was "the supreme achievement of human intellect."
Really? Are you sure? More impressive than flight, space travel, the invention of the wheel or the computer? But that wasn't my question.
My question is, aren't the Big Bang theory and abiogenesis hypothesis at least as important as speciation and natural selection?
When I first became interested in the science related to my existential questions, I realized that to understand the Big Picture, one must begin with the physics of the Big Bang. Without the origin of this special universe, there's no reason to worry about the origin of life.
After exploring chemistry to learn what scientists know about abiogenesis, the origin of life, we can learn about paleontology and the history of life before studying biology to learn about modern life.
Until LUCA came into existence, Darwin's theories were irrelevant.
Life can't evolve until it exists. Period.
If you read my book, you'll find that many of your colleagues are the ones suggesting that luck plays an extraordinary role in our existence, from the origin of the universe to which species survived a mass extinction.
That's extraordinary, cumulative luck I find very difficult to believe. Order does not emerge from chaos by accident.
So, in light of what we know, how can you say that speciation is a fact, when in reality it doesn't seem to be a particularly good theory?
Inquiring minds want to know…