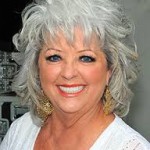 Today Atlanta mayor Kasim Reid just made it official. Everybody and their brother is taking shots at Paula Deen.
Reed went on Meet the Press and declared that her past use of the "N" word was "very unfortunate" and "totally unacceptable."
The Food Network already fired her.
Even my least favorite political cartoonist jumped on the bandwagon, this time associating celebrity cook Paula Deen with the Ku Klux Klan. And yes, the cowardly Mike Luckovich once again left the comment section closed.
I don't own any of Ms. Deen's cookbooks, but I might have to buy one on general principle, even though I have no plans to use it.
The politically correct have spoken unanimously to condemn Paula Deen for an apparently unforgivable sin.
I loathe political correctness. I only care about fairness and justice.
Now when I was a kid, growing up in Savannah, I'm sure that I heard the "N" word a quite a few times. I'm also sure that I've used it in the distant past myself when I was very young and foolish, before I understood the insult it represented.
Since I can't remember when and I'm not sworn under oath, I won't be apologizing for any specific incident, or for being stupid when I was younger.
I will say that I'm sorry that I've ever used the word. Mea culpa.
Now, I'll politely ask you to get over it. It's not like the "N" word has been scrubbed from our culture.
In fact, the last time I heard the "N" word used with alarming frequency was when I watched a Quentin Tarantino movie called Pulp Fiction.
The "N" word is also very popular with rap artists. In fact, I've heard many interesting words used in the guise of song lyrics. My point is that some people can still say the "N" word with apparent impunity.
Why, if it's so offensive?
I'm not advocating permission to use the word. The reverse is true. I'd like everybody else to stop using that word, too.
But I think somebody who's apologized for something that happened in private several decades ago ought to be cut just a little bit of slack.
For the record, I have never been what you would call a fan of Paula Deen. When I have seen her on TV, my habit has been to change the channel.
Her accent seemed put-on for my tastes; exaggerated, and I felt it parodied my own Southern accent.
Yet today, I find myself writing this article in her defense.
She's being financially ruined. Her television career just took a major blow. I can only feel sorry for her. Political correctness, and telling the truth in a deposition under oath,  is apparently going to end her career.
Let's get something straight–I hate the "N" word, with a passion. It dehumanizes people, just for having a slightly darker shade of melanin than mine.
We're all the same, inside.
I don't hate people, but I can hate a word. I can also hate how people use words.
Once upon a time, Paula Deen was robbed at gunpoint by a black man, and part of her physical description of the assailant to her husband included the "N" word. Understandably, she was still a little upset about having a gun pointed at her head.
Please understand; I'm not defending her use of that word. I would have preferred she use a term like "human scum" myself, but we're all human.
We all make mistakes.
She said she was sorry. Time to move on.
If Bill Clinton could say he was sorry for committing adultery in the Oval Office and still be named Father of the Year, why can't Paula Deen keep her cooking show after using one regrettable word, several decades ago?
Please note that in her testimony, plaintiff Lisa T. Jackson admitted under oath that she never heard Paula Deen make a racist remark, never saw her discriminate against an employee based on gender, or sexually harass anybody.
That seems to make the lawsuit against Paula Deen frivolous. She's being charged with guilt by association of her blood relationship to her brother.
Nevertheless, the damage to her career has been done.
Who are we to refuse forgiving the sin of one who has repented and begged forgiveness?