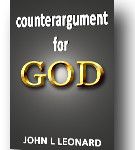 Truly, my cup overflows.
My book Counterargument for God has been named one of six finalists for in the 2013 Readers' Favorite International Awards contest in the Non Fiction category Religion/Philosophy.
One very kind reviewer said:
As I review this book, I find myself wanting to quote the author. His presentation is tactful, eloquent and stated in a logical manner. John Leonard has extensively researched the scientific arguments he discusses in this book…The author states his own personal beliefs in a non-threatening logical manner. I find this book well-written and documented. It is very easy to highly recommend this book.

On a somewhat related note, Dr. Robert Rose will be interviewing me on Wednesday, July 10th. This will be my third visit to "Rewiring Your Brain."
The first two interviews took place earlier this year, on April 5th and then again on April 17th where I offered my "positive" counterargument for God using the best scientific evidence the current experts in their respective fields have given us.
I was very pleased when Dr. Rose invited me back for a third hour, this time to discuss how Christianity affected my life.
Dr. Rose is one of the most interesting and open-minded atheists I've met on my faith journey.
It should be a very interesting conversation.
Best of all, I've doubled my odds of earning that trip to Miami!