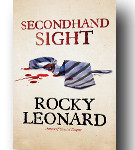 Secondhand Sight, my second novel as "Rocky" Leonard, has been named one of six finalists in the Fiction/Horror category in the 2013 Readers' Favorite International Awards.
This honor would not be possible without the efforts and skill of my editors, proof readers, copy editors, cover designers, and all those who helped me produce these three books that have been deemed worthy of finalist recognition.
This year I'm blessed to have three books remaining in competition in three different categories, with Secondhand Sight joining Always a Next One and Counterargument for God!
One Readers' Favorite reviewer wrote about this novel:
The plot is deceptively simple because it is so ingenious. Dan's descent into a manic paranoia is skillfully documented, and one feels for him in the mental confusion that accompanies his visions. The author also includes some interesting thoughts on the nature of dreams, hallucinations, psychometry (psychic revelations via touching objects), and the power of the mind. Murder mystery and paranormal fans will love this book.

Last year I learned the hard way that a five-star review doesn't guarantee a novel will become a finalist.
I know that I'm very fortunate for this opportunity.
Coastal Empire never made it this far.