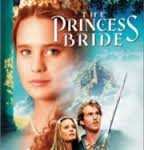 My wife and I met twenty-five years ago, as of this December.
She was literally the teacher, and I the student when I took a week-long UNIX system administration course just before the Christmas holiday in 1988, mostly because my co-worker friend Mark signed up, but decided at the very last minute that he didn't want to attend.
I was looking for someplace to hide so my boss couldn't send me to another yet customer site. The single "fly-and-fix" debugging expert in my group,I'd been on the road for almost eight straight months, six of which I spent living in Hong Kong. I just wanted to stay close to home, so I took Mark's place, even though I had no interest or need to take the class.
It seemed that Lisa and I were destined to meet, fall in love, and get married.
Both of us were "on the rebound" as they say…Lisa came as a package deal from her divorce that hadn't even been finalized, with an adorable three-year-old daughter who is now the mother of our three grandchildren, and I remained a little gun-shy after a failed international romance.
Needless to say, we were advised to slow things down after I announced our wedding date had moved forward from September to May, less than six months after we first met.
We didn't listen.
If I had any lingering personal doubts about my bride-to-be, it was that she seemed too good to be true. However, I wasn't completely sure that I trusted my own judgment.
Perhaps a few of the naysayers advising unnecessary caution had some subtle influence on my thinking at the time, or perhaps it was fact I'd been burned rather recently myself, but no matter the reason, to confirm my conviction that Lisa was "the one", I devised what we now jokingly call "The Movie Test."
The inspiration to come up with a compatibility test probably dates back to my college days, when I once discovered a girlfriend did not like music–and not just "my" music, but any music.
The only cassette for her car player had been Suzy Quattro, ever-so-briefly made famous as "Leather Tuscadero" on the TV show "Happy Days."
Obviously, our budding relationship was inevitably doomed to failure. Sure enough, she soon dumped me for an accountant.
I seem to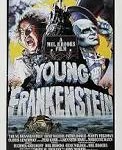 recall my recovery from that breakup was rather swift.
When the time came, Lisa's movie test was administered surreptitiously.
I already trusted her taste in music, so I began to ask her if she'd seen some of my favorite movies, to gauge her reaction to those I loved as a compatibility test of sorts.
If she hadn't seen one of my favorites, I rented a copy to watch with her on our next date.
To my great relief, she loved The Princess Bride as much as I did. Any other reaction would have been a deal breaker. And she laughed at all the right jokes in Young Frankenstein.
Then to my delight, she quoted my favorite Jack Nicholson lines from Goin' South and Peter Falk from The In-Laws, verbatim.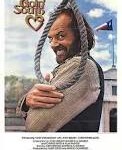 Lisa practically jumped off the couch and cheered at the end of Silverado.
Our relationship definitely had real potential, I could tell.
She appreciated the artistic detail and brilliant plot of Miller's Crossing, which should have won Best Picture over Good Fellas, in spite of the violence.
Her praise was somewhat more muted for House of Games, but appropriate.
Most impressively, she didn't pretend that she liked something to humor me. For example, Lisa made it abundantly clear she had no interest in watching Barton Fink a second time to see if it got any better.
I wasn't even sure I liked Barton Fink myself, but by then I had made up my mind about Lisa. She passed The Movie Test, with flying colors. She was The One.
So imagine my surprise when just the other day, I quoted one of my favorite lines from Blazing Saddles, and got no reaction.
"Wait a minute. You've never seen Blazing Saddles?" I asked in amazement.
"No. That must not have been part of your little movie test," she teased.
For as long as I can remember, Lisa has known and been a good sport about being vetted by my admittedly bizarre movie test. I guess she accepted that as my attempt at a sanity check prior to taking the plunge into marriage, having made it almost to 30 as a single guy.
"No worries," I said later. "I've recorded it, and we can watch it together this weekend."
"But I don't want to watch Blazing Saddles," she said. "I saw a little bit of it while you were recording, and it looked silly."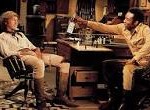 Her comment struck like a knife to the heart. "SILLY? What are you talking about? That movie is a CLASSIC. You loved Young Frankenstein."
Lisa wasn't fazed. "No, I liked Young Frankenstein, so I humored you. It wasn't as good as The Princess Bride. Besides, do I force you to read my romance novels set in Scotland, or make you wear a kilt?"
Not as good as…this is the woman I married?
"But…"
Lisa said, "Anyway, I already passed your Movie Test. After 25 years. I'm grandfathered in by now."[author's note: technically, the correct term should have been grandmother-ed]
She threw up her hands. "What're you gonna do?"
Excellent point.
I decided if I want her to watch Blazing Saddles that bad, I can always put on a kilt for a couple of hours.