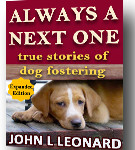 While we were visiting Miami for the Readers' Favorite book awards ceremony, my friend Claire Stanton Wells sent me a link to this article about Georgia Regents University and unnecessary, painful dental experiments being performed on dogs under the guise of scientific research.
Quite frankly, the story got my blood boiling.
It shouldn't be very difficult to guess which side I will naturally take in this controversy — the side of the dog, of course.
Otherwise, I should be forced to give back the gold medal I just received for my book Always a Next One: true stories of dog fostering.
I simply cannot and will not tolerate the idea of dogs or cats being tortured or  allowed to suffer needlessly, especially not here in my home state.
The salient facts in the article were quite clear–dogs have been used for the purposes of experimental dental surgery, and then put to death for a piece of their jaw.
For those of us dedicated to the cause of animal rescue, this needless and barbaric practice is totally unacceptable. It flies in the face of everything rescue groups stand for.
Life is a precious gift, not to be squandered for frivolous reasons. These poor animals deserve better.
Humane advocate Nathan Winograd has demonstrated that given time, no-kill shelters will work. Man's best friend should never put to sleep for lack of space, or the want of a good home.
Only incurably sick animals, or those suffering from severe injury that cannot be healed and rehabilitated should ever be humanely euthanized.
Aggressive spay-and-neuter or "SNAP" programs have helped reduce the number of unwanted puppies and kittens, trying to control the supply so it doesn't exceed demand.
Local humane societies have also been aggressively running campaigns like "adopt, don't shop" to encourage adoption from a rescue group rather than buying a dog from unscrupulous breeders — apparently the very type from whom Georgia Regents University procured these poor, doomed animals.
We're trying to end the suffering of these animals many of us welcome into our homes.
In defense of the research, Dr. Mark Hamrick of Georgia Regents University claimed that disturbing video showing dogs with open neck wounds was not taken until after the animals had been euthanized.
In other words, filming took place after their needless suffering finally ended.
I'm sure the researchers at Georgia Regents University won't appreciate my use of the phrase "animal cruelty" or "needless suffering" to describe their experiments.
But healthy teeth were pulled and replaced with implants. Then the dogs were killed. The researchers will be sure to point out that the unnecessary surgery was performed under anesthesia.
However, the patients are, in fact, still dead. They won't be getting better.
Why is this sort of experimentation even necessary? Simple answer: money. Greed, and $$$. After all, we already have dental implants. Why do we need more?
Why must dogs be vivisected and then slaughtered, just so that we can have more kinds of false teeth?
These poor creatures were callously butchered, only for reasons involving greed and profit.
If you are as outraged as me about this story and feel compelled to voice your displeasure with Georgia Regents University for allowing this abominable research to be conducted on their campus, the primary switchboard phone number seems to be (706) 721-4001.