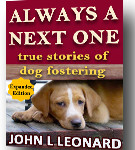 The very first short story I wrote about animal rescue and fostering dogs was about Trooper, a little yellow dog once struck by a car and left for dead.
He became one of the many animals my wife and I fostered during our tenure with the Humane Society of Forsyth County, when he had recovered well enough to leave the veterinary hospital.
Whenever someone says that they couldn't foster a dog or cat because they are afraid of becoming too attached, I often think of Trooper.
My wife and I would have loved to have kept him, but he was a very desirable dog that proved easy to place in the perfect "forever" home where he wouldn't have to compete with the pack for attention.
Trooper is the reason why my book was named Always a Next One: true stories of dog fostering.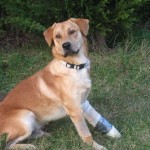 If we had adopted him, we couldn't have fostered Bessie the Basset Hound or any of the other dogs that followed Trooper.
Only by helping good dogs like Trooper and Bessie go to the right homes, perfect homes for them, were we able to help save even more animals.
It was easy to become attached to the fosters, and not as easy to let them go. I'd be lying if I said otherwise.
We fostered Pancho for over a year before the perfect home for him came along. I grew very attached to him. Unlike Trooper, Pancho had people issues and wouldn't easily fit into just any home. When the perfect home for him finally came along, it would have been wrong for me to keep Pancho.
If we hadn't let go of Pancho, we might not have had space for Trooper during his recovery. There was a  great reward for having that dog in our lives, even if it was only for a short time.
Never forget, there's always a next one. The reward for animal fostering is bittersweet, to be sure.
You will love the foster pet as if they were your dog or cat, but you know that day will come when they find the perfect home for them, where they will be cared for as well as you could do yourself, as difficult as that may be to admit.
Once in a while, you might come across a con artist like Rusty who got ideas of his own about his ideal home. However, if the dog or cat looks relaxed and happy in their new environment, it's probably safe to let them go and say goodbye.
Then sometimes when you least expect it, an update will come out of the blue and brighten your day.
We recently re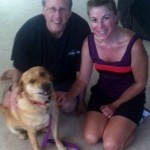 ceived this photo of Trooper with his new family, who have proclaimed him the best dog they've ever had.
As well they should.