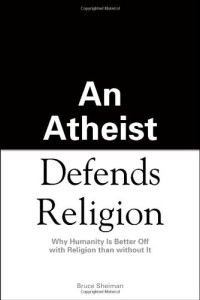 I've discovered that some of my non virtual friends in the real world believe I'm being sarcastic when I refer to my "atheist friends", but that isn't always true.
I am being quite sincere when I say that there are people who call themselves atheists that I honestly consider to be my friends, even though we may have never met in person.
My friend David is a humanist. He and I have respectfully disagreed about many topics of mutual interest, but if I ever visit New Zealand or he ever comes to the U.S. I fully expect to shake his hand, buy him a beer, and for us to finally have a face-to-face conversation after several years of pleasant long-distance correspondence.
Philosophy professor and atheist author George H. Smith likewise has graciously accepted my friendship on Facebook. I'm also sure that he and I could have a friendly conversation over a beer, a single malt scotch, or even a glass of water, should we ever met in person.
Although Professor Smith and I do not appear to agree very often when the topic of conversation is religion, we agree most enthusiastically about the philosophy of Libertarianism.
My favorite book written by an atheist remains An Atheist Defends Religion by Bruce Sherman. It would be difficult to claim another book has supplanted it as my all-time favorite book written by an atheist, because so much of Sheiman's philosophy echoed my own.
Basically, Sheiman made the same overall point about probability that was hammered home so well that I quoted him in my own book, Counterargument for God, after he wrote:
The propensity for matter and energy to self-organize in novel and unpredictable ways is a conspicuous feature of nature; it goes against the laws of thermodynamics (entropy) and cannot be explained by the known laws of physics. But according to conventional science, it's all explained by a highly improbable confluence of accidents. And if you take "accidents" out of the life-creation equation, we would be left with nothing.
Of course, the problem with believing in "nothing" is that something, specifically this universe, allegedly came from nothing, which would mean nothing created something out of nothing, literally an incoherent proposition. 
Even more remarkable, that "something" created from absolutely nothing must then have somehow spawned a living organism from inanimate matter — the hypothesis known as abiogenesis.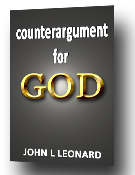 When some of my atheist friends say they don't believe in miracles, I have to wonder if they really know what the word means. The dictionary defines a miracle as an event not explicable by natural or scientific laws, for which a supernatural God or humans may receive credit.
After reading Sheiman's book, it seemed that about the only point on which he and I disagreed was a supernatural Creator as being the only sensible alternative to unbelievable good luck or nothing. He made the perfect argument in defense of having religious beliefs then strangely proclaimed his preference for atheism, in spite of the brilliant logic he'd just used to support his argument defending theism, and without getting very specific about what that third alternative might be.
The problem of having "accidents" in the life-creation equation is that accidents are random by definition, and seldom are the results of an accident beneficial. Given the grotesque improbabilities associated with the Big Bang, inflation, and abiogenesis, we simply can't assume any possibility of bad luck occurring between the creation of the universe and the origin of life. Every accident must be serendipitous in nature, because the opposite of "by accident" is "on purpose."
So I like Sheiman's book very much. However, it doesn't really offer much as a defense (or advocacy) of atheism. It's a book written by an atheist, but it isn't really about atheism. Bruce Sheiman really does defend religion.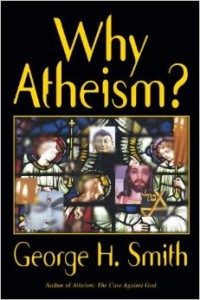 Now by far the best book written by an atheist that's actually about atheism that I've read to date has been Why Atheism? by George H. Smith.
In my opinion, his book is far superior to comparable books I've read that were written by Bertrand Russell, Christopher Hitchens, Richard Dawkins, and their ilk.
What differentiates Smith's book and makes it special?
For one thing, it was quite informative, packed with actual information about the philosophical development of the atheist movement.  Nor was it written with a smug and condescending tone typical of books written by atheists with an over-inflated estimation of their own personal intellect.
Smith provides clear and concise analysis of views ranging from the origins of atheism in ancient Greece to Kant and Spinoza, Locke, Bacon, Aquinas, Schopenhauer, and virtually every other famous philosopher in between who made important contributions to both atheist and theist schools of thought.
The book is refreshingly free of the tiresome vitriol and thinly-veiled hostility toward Christianity usually found in books of this genre. As a Christian, I didn't feel like my faith was constantly under assault as Smith presented his information with clear and concise prose.
Smith wrote,
Logical possibility pertains to the internal coherence (emphasis original)  of a proposition. A proposition is logically possible if it is not self-contradictory. Consider, for example, the proposition: "There exists at least one married bachelor." It is logically impossible for this proposition to be true, because the predicate ("a married man")  contradicts the subject ("a bachelor"). Moreover. to call this proposition logically impossible is to say that it is incoherent, that it has no meaning. (page 41)
I liked that. By some strange coincidence, that explanation reminded me of the recent article I wrote about so-called Christian atheists.
Admittedly, not everything Smith said about religion made sense to me. For example, he wrote this about doubt:
It is the moralization of doubt–the prohibition of doubt as sinful–that makes the Christian scheme of faith fundamentally dishonest at its core. I say "dishonest" because a Christian, having committed himself, through faith, to the tenets of his religion, is thereafter prohibited from doubting his fundamental beliefs. (page 51)
Now in my total experience, which spans 55 years, during which I have visited multiple Protestant churches and a couple of Catholic ones, I don't ever recall a pastor claiming that doubt was prohibited. In fact, I've always had the distinct impression that some element of doubt was quite natural to have. Thomas doubted. In fact, Jesus himself said that we only needed a kernel of faith as small as a mustard seed.
Considering Jesus died for far worse sins than doubt, I'm not sure that's a big deal, anyway.
But a simple mistake doesn't make an excellent book unworthy of reading. Atheists should read Why Atheism? to learn how to argue in defense of their worldview without their rancor for religion becoming so obvious. Theists should also read the book, to learn the best arguments against their beliefs if they hope to compete against the intelligent atheist (in a battle of wits, during a war of words.)
Why Atheism? was extremely informative for any person wanting to understand the philosophical arguments commonly used throughout the history of civilization as justification for atheism.
Interestingly, during his analysis of the philosophy of David Hume, Smith wrote:
Suppose someone tells me he saw a dead person brought back to life. Here I should consider "whether it be more probable, that this person should either deceive or be deceived, or that the fact, which he relates, should really have happened." There is no real contest in this case, because the possibility of resurrecting the dead conflicts with all of my personal experience, whereas I know of innumerable instances where people have related falsehoods. I therefore conclude that "no testimony is sufficient to establish a miracle, unless the testimony be of such a kind, that its falsehood would be more miraculous than the fact which it endeavors to establish…" (page 208)
The obvious problem with Hume's argument is that many things fall outside the realm of our personal experience — which is anecdotal. Almost all of our "knowledge" has also come from people who have related falsehoods…including our sources of scientific knowledge.
Hume's mistake is fixating on the resurrection of Jesus as the impossible claim — the resurrection of the dead. The irony is that abiogenesis (which in fairness, Hume probably knew nothing about) is the animation of matter that was never alive — which would you say is harder to believe? Keep in mind we have numerous documented cases of spontaneous resuscitation and revival after a patient has been declared dead using modern medical technology (never mind what didn't exist two thousand years ago), which Hume also knew nothing about.
Smith implies that he is still open to persuasion when he wrote:
I will therefore demand that the Christian justify his belief in the existence of God with objective reasons, i.e., evidence and arguments that can be evaluated by rational methods. And should the Christian be unable or unwilling to defend his belief, I will urge him to embrace the more reasonable alternative of atheism. And should he remain steadfastly indifferent to the issue of justification–should he say that he believes what he believes and that's all there is to it–then I will question either his judgment or his sincerity. For I would have never taken the Christian seriously in the first place, I would have never engaged in this dialogue, had he not deceived me into thinking that his belief in God was the belief of a reasonable person. (page 49)
I would like to take Professor Smith at his word and offer him a free electronic copy of my book Counterargument for God in the format of his preference, if he will agree to accept my gift to him.
In that book I endeavored to give the reader objective reasons that I give in the hope they will be evaluated using rational methods in defense of my belief, in my counterargument for God.
I will take Professor Smith at his word, and look forward to hearing from him.