Famous tennis instructor Dennis Van der Meer has often said that a player's IQ is cut in half as soon as he or she steps onto the court and the games begin.
His quip translates to mean in the spur of the moment during heated competition, people tend to make ill-advised, emotional decisions as opposed to rational and reasonable ones.
Apparently, that would also be an appropriate way to describe many Georgia Bulldog fans, especially during football season.
Fans who are calling for a coaching change have let emotion shape their comments, which often lack logic and intelligent thought. People are called "fans" for a reason.
It's short for fanatic.
These "fair-weather" fans have unrealistic expectations for the present, and a very myopic vision for the future.
The truth of the matter is that Mark Richt is an excellent football coach.
However, his team has already lost twice this season. Some of our fair-weather fans (apparently those few suffering from temporary insanity) have called for Mark Richt to be fired.
To fire Coach Richt at the end of this season wouldn't just be dumb, it would be one of the most stupid decisions in school history — and that even includes Jake Scott's legendary death-defying ride over Stegeman Coliseum on a motorcycle.
Coach Richt is currently one of the best in the business, and when he finally retires, he will ultimately be considered one of the greatest college football coaches of all time. The fair-weather Georgia fans currently calling for his ouster may be wondering — how can anyone make such an outlandish claim, considering the fact that Richt hasn't even won an SEC championship in the last ten years? Not only that, he's failed to win even one national championship during his tenure at the University of Georgia to this point. Well, allow me to retort.
My question in response to the fair-weather fan is this: is a national championship really the best measuring stick of a coach's ability?
If so, why doesn't Gene Chizik currently have a head coaching job?
As far as I'm concerned, Georgia could lose every game the rest of this year (they won't) and I wouldn't budge — I want Mark Richt to stay, because I see the positive steps and improvements in our program. And I see the incredible talent being assembled in the 2016 recruiting class.
Two years ago, I might have been tempted to agree with people arguing for change. Todd Grantham was Georgia's defensive coordinator, and Coach Richt stubbornly refused to fire him. Richt's loyalty to his own coaches appeared to be holding us back. Before Grantham, Richt held on to Willie Martinez longer than fans were willing to tolerate, and reluctantly fired him.
The defense perpetually failed to match the production of the offense, year after year. Georgia won a few big games every year in spite of our defense, yet always underachieved and fell short.
Then, a minor miracle occurred — to my stunned amazement, Grantham left on his own accord to take the same job with Louisville, and Jeremy Pruitt had wanted to work for Mark Richt for a long time.
From that day forward, UGA's defense has shown dramatic improvement in both talent and execution. Given a third year to put more of the players that can execute his schemes on our roster, Georgia should transition from a very good defense to elite under Jeremy Pruitt and coaches Ekeler, Sherrer, and Rocker.
Now I'm not a psychiatrist or any sort of medical professional, but I think anybody who doesn't think Pruitt is the best defensive coordinator Georgia has had since Erk Russell might need to have their head examined. Flashes of the old Junkyard Dawgs have already been shown by his defense.
In short, Georgia is continuing to move in the right direction. Richt has already made the necessary changes and adjustments that should allow his program to finally make the step from perennial contenders to champions. The current president and athletic director have finally shown they've made a full commitment to having proper resources and facilities.
All Coach Richt needs now is time, patience and continued support from our fan base. Anyone who looked at the UGA roster prior to the start of the season and had dreams of undefeated seasons was more hopeful than realistic, considering the considerable turnover between seasons, with Mike Bobo leaving for Colorado State and Brian Schottenheimer coming to Athens from the NFL.
Firing Coach Richt this season, no matter how many games are lost, would be both short-sighted and stupid, two characteristics that I feel confident do NOT describe AD Greg McGarity.
Michigan head coach Jim Harbaugh is also an excellent football coach and even has NFL experience, but I'd rather have Mark Richt leading Georgia over Harbaugh, Nick Saban, Urban Meyer, or any other head coach who may currently be perceived as the superior leader.
Nick Saban has a win-at-all-costs mentality that some fans would like to see from UGA, without realizing that Saban couldn't continue his success at UGA without requiring the school to lower their standards. The Georgia Way calls for winning with integrity. Frankly, that rules out Nick Saban, even before taking his salary demands into consideration.
Saban's questionable ethics include cutting players by placing them on permanent medical disability, "gray-shirting" and other practices that allow the habitual over-signing of more recruits than his program can legally accept in a given year, and even admitting to his program a player dismissed from UGA for allegedly beating his girlfriend.
To be brutally honest, if hiring a guy with the scruples of Nick Saban is what it takes for the Bulldogs to win a national championship, I'd prefer UGA kept coming up a little short every year.
However, with just a little more patience, I'm fairly certain that being satisfied with the program failing to reach its full potential isn't going to be necessary. Many fans believe that the level of talent recruited into UGA's program has always been on par with Alabama and Florida, but that simply hasn't been the case.
While I was skeptical that an indoor practice facility was necessary, the fact Georgia hasn't had one seems to have suggested to recruits in previous years that the Bulldogs weren't fully committed to competing at the highest level.
But if Mark Richt didn't know how to coach college football, phenomenal high school QB Jacob Eason wouldn't want to travel 3,000 miles from home to play in Athens next year.
Let's be honest; when a freaking Guardian of the Galaxy talks about a high school quarterback committed to UGA on his Twitter feed and newspapers report it, the attention of other talented athletes is drawn to Athens to play with him. Just imagine what it would be like to have Drax the Destroyer as one of your inside linebackers.
And by no means is Eason alone. Highly sought blue-chip prospects Mecole Hardman, Kyle Davis, Derrick Brown, Isaac Nauta, Demetris Robinson, Shyheim Carter, Willie Allen, and several others may be joining Eason to fill out the best recruiting class Georgia has ever assembled, if all of them commit to the "G".
Georgia is considered the favorite to sign most, if not every one of these players, which could become a domino-effect. The 2015 class currently being assembled has the potential to add considerably more talent to the roster in one season than even the touted 2011 "dream team."
It's important to note that Jacob Eason has stated for the record that the only reason he might not be at UGA in January would be if Mark Richt isn't still coaching the Bulldogs. He's already signed his financial-aid agreement.
Coach Bobo's move to Colorado State had no impact on Eason's commitment — he wants to play football for Mark Richt. Period.
Why, you might ask?
Surely Coach Richt's success coaching Heisman Trophy winners Charlie Ward, Chris Weinke, and first overall NFL draft pick Matthew Stafford has had some influence on his decision.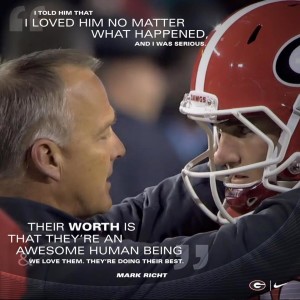 But I also suspect it also has a lot to do with the relationship Mark Richt has cultivated with his players.
Please consider Mark Richt's reaction to senior placekicker Marshall Morgan's miss of an "easy" 26-yard field goal attempt in their recent game against Missouri.
Coach Richt immediately comforted his player, who probably felt as if he'd let the whole team down and may have lost the game. Almost every fan in the stadium and probably most of those watching on television may have felt that way, too.
Not Mark Richt.
He told Morgan that he still loved him. That his worth was not determined by a single mistake. Fans may have forgotten by now, but that wasn't Morgan's only mistake that game.
Earlier, he left an onside kick attempt short of ten yards, giving Missouri possession of the ball with excellent field position.
Rewarding the loyalty and love of his coach, Morgan was clutch on his last field goal attempt, and Georgia won a hard fought defensive battle, 9-6. In recognition of his efforts, Morgan was named the SEC Special Teams Player of the Week.
Fair-weather fans complained that Richt's game plan was too conservative, but they also were complaining that the onside kick was too risky. Losing to Alabama and Tennessee was completely unacceptable, but winning by a field goal wasn't enough to please them, either.
Contrast the exchange between Mark Richt and Marshall Morgan to Jim Harbaugh's postgame press conference. Coach Harbaugh threw his punter under the bus for bungling the very last play of the game against Michigan State, which cost Michigan the victory.
Coach Harbaugh blamed the referees for his team's loss, claiming they made several bad calls.
He also blamed the last play on a bad snap. Coach Harbaugh even went so far as to say that his punter only needed to field the ball cleanly and do his job, and the game would have been won. The kid must feel terrible.
In other words, Jim Harbaugh blamed everybody but himself.  He refused to take any responsibility for a very questionable call to punt. Seriously, was he that afraid his defense couldn't stop a Hail Mary pass that it was worth the risk of a bad snap or a blocked kick?
Please compare Harbaugh's comments to what Mark Richt had to say after his disastrous call for a squib kick at the end of last year's game against Georgia Tech.
Coach Richt immediately took full responsibility for his mistake. He offered nothing but effusive praise for the tremendous effort by his players to put the team in position to win.
And that's exactly what a truly great leader should do.