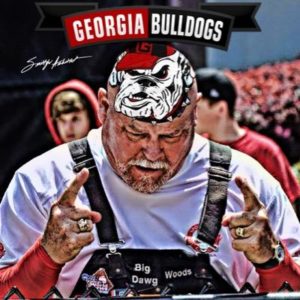 Okay, I'm seriously bummed out — due to a scheduling conflict and a prior commitment, I cannot attend the G-Day game in person this coming Saturday. I need someone to pick up my slack and be there in my place.
Therefore, I'm asking for all my fellow members of the Dawg Nation to make sure my seat isn't empty at noon for the kickoff on Saturday. We need another 93,000 fans to jam pack Sanford Stadium, just like last year.
Anything less would be a letdown after the turnout for the game last year. This needs to become a habit.
Think about it this way: we don't want coaches like Urban Meyer to be able to negatively recruit players from our state by telling them we're only fair-weather fans. If teleportation had already been invented by now, I'd be right there in Athens with you. Only impossible logistics for this coming Saturday could keep me away.
So now, without further ado, here are my Top Ten Reasons to be at the game in person this Saturday:
Reason #10: Go because your visit to campus will provide an opportunity to check out the new indoor practice facility. Confirm with your own eyes that your donation money has been well spent.
Reason #9: Go because you can watch UGA football in person, free admission.
Reason #8: Free parking, too. My spot will be available, just like my seat.
Reason #7: Go because no matter how good or bad we look as a team, our Bulldogs will win the game. Guaranteed. When have you ever been guaranteed victory before?
Reason #6: Go because our players have asked us to be there. I'll be there in spirit, and watching on television from afar. Show the players love. Their adrenaline feeds on our raw emotions. Go because watching a football game is better than watching baseball now that Maddux, Glavine, and Smoltz have entered the HoF.
Reason #5: Seize this opportunity to rekindle old memories in The Classic City. Tailgate with old friends and make some new ones. Maybe R.E.M. will show up in Tyrone's to play a set, for old times sake. And Elvis could be the halftime show. Or, maybe not.
Reason #4: Go to see if the OL blocks as well in game action as reporters on the internet claim they've performed in practice.
Reason #3: Go because recruits were very impressed with the turnout last year. It wasn't by accident last year's recruiting class finished #3. No back sliding allowed from this point forward. We don't want anyone to think the Dawg Nation isn't fiercely loyal to the Red and Black. Several very important recruits will be at the game on Saturday. We want them to stay home and play for the Dawgs.
Reason #2: Go to watch Nick Chubb, Dominick Sanders, Lorenzo Carter, Sony Michel, and the other seniors in action, competing in their final spring practice game. Honor their dedication, commitment, and sacrifices for the Red and Black. Also watch Jacob Eason and Jake Fromm compete. Prepare to be dazzled by the play of the young puppies like Mecole Hardman, Jr. and Jeremiah Holloman.
Reason #1: Be there to honor the memory of the Big Dawg. You know he'll be there to lead us once more, if only in spirit.
Go Dawgs! Sic 'em!
(And the crowd roars) Woof woof woof woof!