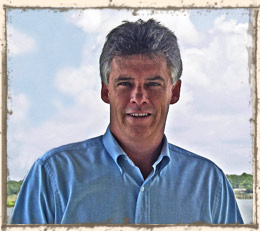 John Leonard was born in Savannah, GA and has spent most of his adult life in the northern suburbs of Atlanta.
He holds a BBA from the University of Georgia and worked as a computer programmer for over twenty years before transitioning to full-time writing. His writing has also been influenced by shorter stints working as a bartender, real estate investor and landlord.
John has written a number of articles for the online publication American Thinker and was interviewed on the Dennis Miller radio show about a series of articles he wrote about airline safety. He has also written short stories for an anthology about animals and is in the process of editing his first detective novel. John is a member and Vice President of the Writers Alliance of Georgia, LLC (WAG). He is also the Atlanta Creationism Examiner for the online news source Examiner.com. The local color in his writing is equally authentic whether the setting is a Georgia beach, downtown Atlanta, or the Appalachian foothills in north Georgia.
Divine Evolution is his first book.
He has been married to wife Lisa for twenty-one years. John is the proud father of two and grandfather of three, as well as pack leader for several wonderful dogs and the occasional foster cat.