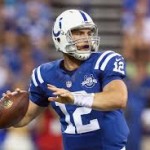 Biggest thing I learned my first year in the NFL is nobody gives a crap about what you did last week. The league is about what have you done for me now. That's the NFL. It's also our culture. So you keep working hard because that's the biggest truth about football. — Andrew Luck
Once upon a time, while arguing about a call with the referee during a game, coach Jerry Glanville famously claimed that the initials of the NFL really meant "Not For Long" rather than "National Football League" because a bad call could cost someone his job.
And it's obviously true.
The NFL Player's Association has estimated that the average length of a player's career is 3.5 years.
NFL Commissioner Roger Goodell replied:
There is a little bit of a misrepresentation or a misunderstanding on that. Frequently, it is said that the average career is about 3.5 years. In fact, if a player makes an opening day roster, his career is very close to six years…If you are a first-round draft choice, the average career is close to nine years. That 3.5-year average is really a misrepresentation. What it adds is a lot of players who don't make an NFL roster and it brings down the average.
Only the best of the best football players make it into the NFL, and then mostly because of their God-given, natural athletic talent.
However, the right to stay there must be earned every day, by preparation and hard work.