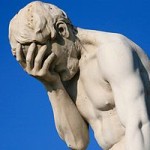 Yesterday was Palm Sunday. The face palm moment came early.
Before church, I visited a place on Facebook called The Battlefield. The group consists of theists and atheists who are interested in (more or less) cordial debate.
I felt compelled to respond after one of my atheist friends asserted if Sir Isaac Newton were alive today, he would reject Young Earth Creationism and more than likely be an atheist, according to these statistics.
Several replies came to mind. Naturally, I responded with all of them.
First of all, such speculation is both silly and irrelevant. Newton has been dead almost 300 years. It's impossible to say what he would be like today. And it seems rather foolish to assume modern science would be anywhere close to where it is today if Newton hadn't lived and accomplished what he did, when he did. The issue of Young Earth Creationism is semantic, and especially for this argument. It can help divide Christians from each other, but does not separate theists from atheists, the more important point of contention in that forum.
Secondly, historically speaking, the polar opposite has been true in regard to the relationship between super-intellect and spiritual beliefs. Polymaths like Newton, da Vinci, and Emmanuel Swedenborg were if anything uber-religious people, and most certainly not atheists. Modern polymath Michael Guillen has three PhDs, and he's a Christian. The appeal to modern authority falls flat because Newton was the authority of his time. If he were alive today, it would be reasonable to assume that Newton would still be an authority figure. More than likely, Newton wouldn't follow the crowd. He would lead it.
And finally, to be fair to my atheist friend, I also mentioned that wasn't the dumbest thing I'd heard when it came to "if so-and-so were alive today, he'd be an atheist…"
Richard Dawkins owned that dubious distinction, for having said that a person as intelligent as Jesus would not believe in God if he were alive today, raising the stakes beyond mere silly speculation to the truly ludicrous unfounded opinion.
It would seem much safer to assume that someone who claimed to be God would make that claim no matter when and where he lived. Jesus would never submit to human authority. If he wasn't afraid of the cross, he certainly wouldn't be afraid of one little guy like Richard Dawkins mocking him.
But Dawkins had a lot of curious things to say in this interview, for example:
A lot of people think we need religion in order to be moral. There are a lot of people who think that if you took religion away, people would start rushing around smashing shop windows and robbing and raping, things like that. No evidence of that whatever. I mean, absolutely none. So I think one important thing we've got to do is prise apart religion and morality. It's absolute nonsense to say you need religion in order to be moral.
No one that I know of has suggested that atheists are inherently amoral. However, without the objective morality that can only come from God, the issue of whether there is consistency in morality from one atheist to another becomes painfully obvious.
Personally speaking, I've never had to waste any time wondering whether or not things like infanticide or adultery were immoral.
Both clearly violate the Ten Commandments, found in my primary source of objective morality, the Bible. But by the same token, Dawkins can't say the same.
Dawkins can't bring himself to say that infanticide is immoral. He even has the audacity to defend adultery, going as far as lambasting the humiliated wives being cheated upon for being jealous of their philandering spouses. I haven't checked to see if his opinions on cuckolds are consistent.
And the problem isn't just Dawkins. It's troubling to know that his friend, atheist and physicist Lawrence Krauss, can't bring himself to say that incest is always morally wrong.
In that same interview with The Guardian, Dawkins also made this very interesting comment:
Science is wonderful. Science is amazing. The fact that you could understand why you exist, who could not be turned on, who could not be excited by that? Who could ever want to live in a world where you live your life, you go to work, you go to the office, whatever it is, you go to the football match, and this goes on year after year…and then you die. And you don't have any understanding of why you were there in the first place. That's desiccated. That's dry. What is not dry and desiccated, is coming into the world as it were awakening in the world, an awakening in the fullest sense of seeing the universe, seeing the stars, seeing down a microscope, seeing what's inside every single cell, seeing what's inside the brain and marveling at this wonderful gift of life, that we have, albeit temporarily, marveling at this gift of understanding why we exist, and rejoicing in it for as long as we do exist.
Now, anyone who has actually read The God Delusion should immediately recognize the glaring contradictions between what he wrote in his book, and the language Dawkins used in the interview. In the book, he made it very clear that as the product of natural selection, there is no real reason for our existence except "to have a good lunch" — and certainly there is no one to thank for "this wonderful gift of life."
His bolded words above describe what atheism actually robs from a person, which is their sense of purpose. The atheist has no one to thank for the good things in life, except possibly their mother, for not having an abortion.
There's nothing wrong with science. It's the only method that we can effectively use to examine the potential evidence of a Creator.
However, if a creator God did not exist, our own existence would also have no rational meaning or purpose…which happens to be the exact opposite of what Mr. Dawkins said.
Science is not God. It can be respected, but not worshiped.