In his book The God Delusion, prominent atheist Richard Dawkins wrote, "As J. B. S. Haldane said when asked what evidence might contradict evolution, 'Fossil rabbits in the Precambrian.'"
But how does Haldane's rather sarcastic and flippant remark translate into English?
Well, consider that the Precambrian describes the geologic period of time between the origin of life and the Cambrian explosion.
According to our experts in paleontology, this particular period of time during the Earth's development was dominated by single-celled organisms that descended via asexual reproduction from LUCA, an acronym referring to our Last Universal Common Ancestor, formed by a secular miracle of chemical reaction.
So a fossil showing the presence of a more complex and modern product of sexual reproduction, such as a rabbit or a human, shouldn't be found in rocks formed long before that particular creature could have come into existence, according to these "rules" of evolution.
When Darwin famously suggested that "monkeys make men", he could have claimed that protozoa make men, but his idea presented in The Origin of Species would have been harder to defend using comparative anatomy as the only weapon in Darwin's arsenal of evidence to argue in favor of common descent rather than common design.
The idea that every living organism is related through common descent is the very heart and soul of Darwin's theory — the belief that simple organisms can gradually evolve to become more complex, given the vagaries of time, through variety created by descent with modification via natural selection, of course.
By employing that same logic and extrapolating from the same evidence only a little bit further, one could also reasonably assert that "bananas make men."
In fact, in his book The Greatest Show on Earth: the Evidence for Evolution, Richard Dawkins said as much when he wrote,
Evolution is a fact. Beyond reasonable doubt, beyond serious doubt, beyond sane, informed, intelligent doubt, beyond doubt evolution is a fact. The evidence for evolution is at least as strong as the evidence for the Holocaust, even allowing for eyewitnesses to the Holocaust. It is the plain truth that we are cousins of chimpanzee, somewhat more distant cousins of monkey, more distant cousins still of aardvarks and manatees, yet more distant cousins of bananas and turnips…continue the list as long as desired.
Because I didn't fall off the turnip truck this morning, personally I find this "fact" called evolution more than just a little bit hard to believe. Usually I'm a fairly reasonable person, and yet I have very good reasons for expressing my doubts that Mr. Dawkins's above claim is true.
For example, another theme central to Darwin's theory says that if we can look far enough back in time, we can see evidence that ancestral creatures went through radical morphological changes at some point in the distant past. This phenomena allows evolutionary biologists to "predict" when a critical divergence occurred — such as when dinosaurs evolved into birds, or when fish magically mutated into tetrapods.
For whatever reason, it has been generally assumed that Haldane's comment more or less applied to any fossil evidence that was found in rocks where it didn't belong, and Darwin's theory would fall under new scrutiny should that occur.
However, that may have been a foolish assumption.
For example, when fossil footprints were found in Poland that appeared to be 20 million years older than Tiktaalit, the alleged transitional fossil that purportedly bridges the gap between fish and all tetrapods. That seems to strongly suggest that Tiktaalit was not some miraculous intermediate species that magically crossed the boundaries between two phyla.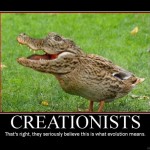 Creationists have been harshly criticized and ridiculed for allegedly demanding that evolutionists produce a crocko-duck transitional fossil.
However, the so-called "educational" website produced by the University of California-Berkeley described Tiktaalit as having "the head of a crocodile and gills of a fish," and no one seemed to think that sounded remotely absurd.
This extinct specimen pictured on the left has been dubbed Protoavis, which means "first bird." It allegedly lived during the late Triassic Period, approximately 210 million years ago.
When my friend Landon posted the picture of Protoavis as shown on the left, I suggested that he'd only created a massive headache for himself. After all, he had just pointed to yet another equivalent of a "Precambrian rabbit" that might finally get people questioning the conventional wisdom of Darwinism once again.
This is because Archaeopteryx has been widely accepted as the transitional creature from dinosaurs to birds, and it lived during the late Jurassic, only 150 million years ago.
That makes Protoavis the second "first bird" fossil. However, it looks a lot more like a bird than Archaeopteryx.
How does the die-hard evangelist for evolution respond to such evidence? Most will probably parrot P. Z. Myers, who seemed to be suggesting that evolution theory will not be successfully challenged or debunked until a Precambrian rabbit has literally been found.
And not before.