Short Bio:
John Leonard is a freelance writer and the author of Divine Evolution. He holds a BBA from the University of Georgia and spent more than 20 years as a computer programmer before pursuing a full-time writing career. He believes the local color in his writing is a key component to achieving authenticity. He lives with his wife Lisa, several dogs and the occasional stray cat in the suburbs of Atlanta.
Author Photos:
(To download, click on photo to enlarge and then right click and select Save Image or Save Target )
John Leonard Book Info:
(To download cover art, simply right click and choose Save Image or Save Target)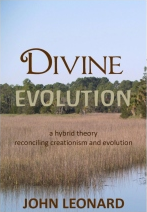 Writing Samples
Read a Sample Chapter from Coastal Empire (not yet released)


Interviews
Read John's interview about Divine Evolution
Radio Interviews

(if unable to view the media player, click here to listen)
Media Inquiries
Please direct all Media inquiries to John via his contact form.