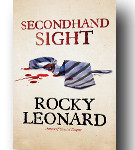 I have written five books, both novels and nonfiction.
But I only write about things that interest me.
My lifelong love of thrillers and detective fiction, combined with my interest in supernatural phenomena, led to my desire to first write Coastal Empire and then Secondhand Sight, a paranormal thriller.
The villain of Secondhand Sight was a serial killer, one of the scariest and most depraved members of our society — a person who murders a number of people, simply for the perverse pleasure of killing them.
Speaking of Secondhand Sight, this month you can get a free e-book from Story Cartel and be registered to win a free Amazon gift card at the same time.
And tell your friends.
At the polar opposite end of the spectrum in regard to my reading interests are science and medicine, inspired by my research to write Divine Evolution and then Counterargument for God.
Mix all my various interests in a blender, and about the worst idea I might ever conceive might be a serial killer infected with AIDS, intentionally spreading the virus to everyone with whom he comes in contact.
Let's face it — the words "serial killer" and "HIV" ought to send a chill down your spine.
Or it could cause you to weep tears of joy.
What if scientists discovered that genetically modified HIV virus could be used to cure cancer?
Doubts are perfectly understandable. Seeing is believing.
So watch a three minute video found at this link, and learn to believe in miracles.