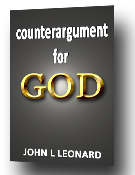 [FULL DISCLOSURE: Herman L. Mays, Jr. recently published a somewhat ruthless review of my book Counterargument for God, which may lead some readers to conclude this particular article has been written to gain some measure of revenge. However, after reading the rather vitriolic exchanges between academic/intellectual types such as Bart Ehrman and Richard Carrier, I'm convinced that hostile rhetoric is now a perfectly acceptable form of criticism. Therefore, I won't be mincing my words, either.]
Professor Herman L. Mays, Jr. teaches at Marshall University, and he's probably a very nice guy (Anybody who can make me laugh out loud can't be all bad in my book). And when I read the following sentence his review of my book, I literally burst out laughing:
To say Leonard's book should be taken with a grain of salt gives undue credit to the power of salt to ease the swallowing of the foulest of meals.
I have to admit, that's a pretty clever zinger. Could his rhetoric be exaggerated? That's not for me to say. Because my brain often works in strange and unconventional ways, when I read his little quip my mind wandered back in time to revisit an old installment of the comic strip Bloom County, in which Opus the Penguin wrote a scathing review of the movie Benji Saves the Universe. He described the movie as achieving "new levels of badness" — could I be as equally untalented a writer?

Given his perspective as an academic who earns his paycheck teaching evolutionary biology, it shouldn't be terribly surprising that Professor Mays took exception to my criticisms of Darwin's theory as the best explanation for the origin of new species. However, when he claimed that virtually anything offered on Amazon for $2.99 was a better use of one's hard-earned money (and knowing that Professor Mays received a free copy) I had to wonder if his penchant for hyperbole overruled his good judgment, and if he was aware of the quality of the competition in Kindle books offered for that same price.
I find it extremely difficult to believe his claim that my book (which won an award) worse than such literary classics as Hillary Clinton: What America Lost by not Electing Hillary Clinton, or the incomparable (and equally incomprehensible) Donald Trump Versus the Were-Yeti.
Alas, that question is moot and must be left for future readers to decide.
It should be noted that for a man who forcefully argues using his position of "authority" as an academic, Professor Mays becomes squeamish and remarkably evasive when asked a rather straightforward question: was he an atheist?
After all, our acquaintance was initially made after he posted several disparaging comments either about creationism or people (like me) who believe in a supernatural creator God. Therefore my question seemed reasonable to ask, and I didn't expect it would be difficult to answer. But this was the verbatim response from Professor Mays: "I'm not an atheist because I don't not believe in a god."
Typically the use of a double negative is considered weak grammar unless the author has intentionally used litotes to imply a suggestive double entendre or to understate an opinion. For example, using the phrase "he isn't a complete idiot" as a description of Professor Mays could be taken as a sly innuendo suggesting that he is actually an exceptionally clever man, or it might be interpreted to mean he's at least a slight improvement over a boorish imbecile.
How does one resolve a triple negative?  There is no known convention in the English language advising how someone should parse and interpret such a convoluted mess of a reply.
"I'm not an atheist" seemed clear enough, but when combined with "I don't not believe in a god" a possibly clear and coherent answer to a direct question turns into muddled nonsense.  "I don't not believe in a god" and "I believe in God" clearly do not convey the same meaning. "I'm not an atheist because I believe in God" would be a clear and coherent statement that makes perfect sense. "I'm not an atheist because I don't not believe in a god" is simply gibberish.
Two lefts don't make a right, but three do.
But that somewhat egregious abuse of the English language may be excused given the context — surely Professor Mays takes greater care when writing for publication than he does for his personal correspondence. In fairness, we should examine some of his published material. This paper titled "Speaking Out Against Climate Change Denial in West Virginia" by Professor Mays, found in Reports from the National Center for Science Education, begins with this rather audacious claim: "The scientific consensus on climate change is clear. Global temperature is rising and the emission of greenhouse gases from human activities is the primary cause."
Oh, really?
Now of course it's just my opinion, but I think it's rather brazen for Professor Mays to lecture others with feigned authority on the subject of climate change, especially considering the fact he doesn't study climate science, and his primary source seems to be a book by a couple of historians on climate change, or possibly even the movie of the same name. An inconvenient truth, perhaps?
With his opening statement, Professor Mays sounded a lot more like Bill Nye, the sciency guy than an academic writing for publication in a professional journal. Bill Nye is an entertainer who likes to frequently portray himself as an academic and some sort of scientific authority, with considerable success in the mainstream media. Nye often pontificates his opinions on subjects that he knows little or practically nothing about, which includes climate science, and Darwin's theory of evolution. For whatever reason, a bow tie and a lab coat appear to give Nye an air of credibility. At least Herman Mays, Jr. really does hold a PhD…it just doesn't have anything to do with climate science.
Bill Nye loves to cite statistics, and he often talks about "scientific consensus" that greenhouse gases caused by human activity are causing irreparable harm to our environment. However, as Dr. Roy Spencer (a bona fide expert on climate science) testified before Congress, that particular statistic actually refers to the percentage of people who believe human activity has an impact on our environment, not the number of experts who claim that we all must install solar panels, erect a windmill, and drive a Prius, or else the seas will rise, we'll have droughts and famines, and the world will end.
Tomorrow, or next Tuesday at the very latest.
Unlike the recommendations of Professor Mays in his review of my book, I'm going to strongly recommend that everyone read this execrable opinion piece of dogmatic climate alarmism, because it is illustrative of the most significant problem faced by modern academia: they no longer understand the purpose of their job.
Professor Mays seems to have forgotten it is his job to teach young and impressionable minds how to learn, not necessarily what to learn. Academics like Professor Mays don't even realize the harm they are doing to humanity as a whole, when they attempt to suppress critical thinking and espouse blind indoctrination. If you want me to believe something, all you need to do is convince me. At least when Professor Mays rhetorically poses the question, "Could the consensus on climate change be wrong?" he was honest enough to admit the answer is "yes."
Unfortunately, Professor Mays seems to be relatively certain that he's right and you're wrong, assuming you disagree with something he believes. He uses adversarial language and demonizes his opposition in this theoretically civil and "intellectual" debate: he calls them climate deniers. Advocates of governmental action to do something about climate change are said to all have equally valid, probably even altruistic reasons for their legitimate concern.
But those opposed are climate deniers who allegedly do so for some nefarious and ambiguous political or economic motives.  One sentence in particular effectively sums up the discouraging bias against intellectual debate that exists in the mind of Professor Mays: "I view the strategy of climate change denial in the same light as the denial of the scientific consensus on evolution. Both are assaults on reason."
There is no possibility for open dialog to have even a prayer of success if one party in the conversation starts with the assumption that anyone who disagrees with him must be unreasonable. And the irony that Professor Mays appears to base much of his understanding of climate science on the work of Naomi Oreskes and Erik Conway, co-authors of the book Merchants of Doubt: How a Handful of Scientists Obscured the Truth on Issues from Tobacco Smoke to Global Warming is delicious: his most frequently cited authorities on climate science are not scientists. They are a couple of science historians. Yet Professor Mays lambasted my book in his review for using direct quotes excerpted from "popular" texts such as The Greatest Show on Earth: the evidence for Evolution by Richard Dawkins, or Why Evolution is True by biologist Jerry Coyne, rather than some snooty academic publication like Reports From the Center for Science Education.
Though he lists a few academic papers among his sources, Professor Mays didn't seem to be quoting from their work, but he made quite a few references to Oreskes and Conway. Occasionally Professor Mays stumbles over the truth, as when he wrote, "Political and economic interests are exerting an influence on the that has little to do with the actual science."
Professor Mays might protest my summary of Merchants of Doubt with only two short sentences: "Big oil bad. Environmentalism good" but it is an accurate assessment. If Professor Mays was called before Congress to contradict the testimony of Dr. Spencer, I can imagine that it would go a lot like the exchange between Senator Ted Cruz and the president of the Sierra Club.
Science is never settled, and anyone who prefers agreement to evidence isn't qualified to be considered an authority. Everyone is entitled to his or her opinion, but they are not entitled to silence the opinions of others. And if someone who thinks he knows it all can't or won't engage in civil conversation, perhaps they should consider remaining quiet themselves.