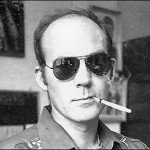 March is a month without mercy for rabid basketball fans. There is no such thing as a 'gentleman gambler' when the Big Dance rolls around. All sheep will be fleeced, all fools will be punished severely… There are no Rules when the deal goes down in the final weeks of March. Even your good friends will turn into monsters. — Hunter S. Thompson
The Wisconsin Badgers and the Duke Blue Devils will play for the NCAA basketball championship tonight, bringing an end to the tournament nicknamed "March Madness" in particular because of the frenetic nature of the early rounds, when television networks frequently switch coverage immediately upon the conclusion of one game in order to broadcast the final moments of another game headed for a thrilling conclusion.
Even casual college basketball fans consider the NCAA tournament "must see" television.
Speaking of madness, Hunter S. Thompson wrote the infamous memoir titled Fear and Loathing in Las Vegas. Anyone interested in learning about the dangers of abusing serious drugs without risking their own life would do well to read that book, as well as the biography of Hunter S. Thompson, a remarkably talented but unhappy man who invented what he called "gonzo journalism."
Bill Murray played the writer in a movie loosely based on his life story titled Where the Buffalo Roam. Johnny Depp also starred as Thompson in film adaptations of both Fear and Loathing in Las Vegas and The Rum Diary.
While Thompson was famous, the antics captured in his prose became legendary. Even the Doonesbury character "Uncle Duke" is routinely associated with Hunter S. Thompson.
But the writer paid a high price for many long years of dangerous living and serious drug abuse. Thompson's health declined over time, and he finally committed suicide in 2005.
In a bizarre but oddly appropriate gesture considering how Thompson lived his life, his ashes were shot from a cannon while Bob Dylan's "Mr. Tamborine Man" played — a song about a drug dealer.