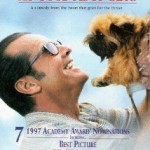 While he was alive, my father said he preferred the company of animals to the company of people. At the time, I thought he only meant my company. After all, we'd both outgrown the idea my living under the same roof with him. I didn't take it personally.
We both knew when it was time for me to go.
However, in retrospect, I believe Rocky was actually making a more general statement about the human condition because the older I get, I more I get to be like him. These days, it seems the more people I meet, the fewer I wish to know.
Not because of how they look, but how they act. I already know enough people who behave like Melvin Udall, before he fell in love and became human. For example, real-life Rocky and fictitious Melvin shared more than one personality quirk in common.
Hostility, much of it fueled by racial prejudices, increases by the day. People no longer stop to think before they speak, or about the feelings of those they are ripping to shreds. They don't even bother to listen to the civilized debate point the other is trying to make before shouting them down.
Instead, these very angry people just unleash their vitriol at will, because it feels good to let it all hang out. Often though, it is blind hatred directed against an innocent bystander, not directed anger at another who actually caused them harm.
And the smarter someone thinks he or she is, the more likely they will feel empowered to call the target of their derision an idiot, a moron, or an animal.
Interestingly enough, only recently someone rather vociferously asserted that I was a moron, simply because I lacked a uterus and dared to express an opinion contrary to hers.
I thought it odd, because previously I had believed "moron" was an insult intended to reflect a general lack of intelligence. Silly me….I had no idea intellect was stored in the womb.
But I digress…what a shocker!
Let's start with the easy one and work our way to the more difficult case, shall we?
First, a topic near and dear to my heart – the recent "trashing" of Tybee Island during the "Orange Crush" celebration.
For the uninitiated, Orange Crush is a loosely organized gathering of black college students from nearby universities. The students congregate to "blow it out" during their spring break with a beach party. And yes, this year they apparently left more litter than they usually do.
They have fun, and with very rare exception, nobody gets hurt. No harm, no foul….except for the litter, which adversely affects the environment.
This year's event received a lot of negative attention on the internet. And with most things that go bad on the internet, people will say things they would never dream of uttering aloud in public, unless they were accustomed to wearing white robes and pouring gasoline on crosses before lighting them.
Not if the person in question had a lick of sense.
I have been appalled that racism reared its ugly head in some of the comments critical of this year's Orange Crush. Maybe it's true that there was more trash this year than last.
There is no excuse for leaving the beach covered in garbage. But the problem reflects a lack of character more than anything else.
Stated more bluntly, another way: litterers cannot be identified by skin color.
Every person in attendance at Orange Crush could have been whiter than the pure driven snow and the beach would almost surely have been trashed just the same, unless they were all Boy Scouts or a church group.
Don't even try to tell me that only black people go to the beach for Memorial Day and the 4th of July.
This year might have been a little worse than usual, but if you think the beach is pristine after ANY large group of people descends, you're living in a dream world.
For the record, a group of volunteers from Savannah State, a "black" university, helped clean after Orange Crush last Sunday.
Perhaps before next year, the organizers of Orange Crush could reach out to Tybee officials well in advance to address the issues highlighted by this year's adverse PR caused by this year's litter and come up with a plan to prevent another  negative experience in the future.
Just a thought.
But as I read some of the online comments about Orange Crush, I cringed.
I don't want to publicly embarrass an old friend in case he reads this and realizes that I'm speaking of him. But when my son was young, I didn't want him to act like me; I encouraged him to emulate this particular friend. I've never seen this person lose his temper.
In the years I have known this friend, he has been by far the nicest, most polite, and most consistent person to live his religion, which is Christian.
The skin color of this friend and role model for my son happens to be more ebony than ivory. What difference does that make?
He is NOT the best black man I happen to personally know. He's the best human being I know.
Sorry, Mom. You'd have to know Big "O", and then you won't be offended. I've heard Mom cuss before.
This particular friend helped me realize why I hate racism so much.
According to my faith, we're not even supposed to judge each other, let alone blindly judge, solely based on skin color.
Now for the harder, much more serious case in point: the Trayvon Martin tragedy.
I say the case is tragic because either way, one young man is dead, and the other marked for death. And rather than argue about the "body of evidence", which is not all in the public domain, I'd like to simply make a couple of salient points about the matter.
I can't say with absolute certainty that the outrage would not be anywhere near the same if George Zimmerman were also black. There's simply no way we could ever know for sure — but it's a pretty good guess that the media would have reported the story quite a bit differently.
That is to say, they would not have reported it at all, certainly not at the national level.
Senseless violence barely merits any mention by the media when the crime is black-on-black, because sadly, it is too commonplace for them to care.
But in truth, one unnecessary death is no better or worse than another.
By and large, the American media is a pathetic joke. They routinely refuse to report stories that fail to fit into their politically correct media template. After giving the idea due consideration, I have decided I shall refuse to stir up mindless, racist by whites against blacks by pointing to the disturbing trend of hate crimes to "revenge" the injustice of the Trayvon Martin shooting.
Even our president, Barack Obama, poured gasoline on the fire when he claimed the son he doesn't have would have looked like Trayvon. He should have been trying to calm the growing unrest, but instead, he lit a match.
Now POTUS remains mute, though he surely knows about these under-reported tales of senseless "revenge." Why doesn't he say the son he never had could look like Matthew Owens?
The mindless hatred and violence has to stop.
The American media may not report it, but the information is out there. Read international papers, or check aggregates like the Drudge Report for headlines that tell all the news, not just what the media wants you to know.
It's bad enough the New Black Panther party put a "bounty" on George Zimmerman's head. I don't need to foment racial tensions any worse than they already are. I'm not even going to post another link to the story I read this morning about a gang that attacked a man and beat him into critical condition. Just know that it happened.
Were even one person with epidermis the same shade of melanin as mine inspired to inflict senseless harm on another simply because of something I wrote or brought more attention, I would consider myself just as guilty and irresponsible of inciting racial hatred as the media, the Klan Grand Wizard, or Al Sharpton.
Be careful, and be vigilant.
But not a vigilante.