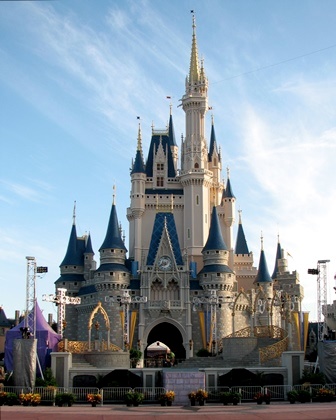 Over 47 square miles in diameter and with more than 35,000 total employees, Disney World in Orlando can be described as a miniature, intelligently designed artificial world.
The main thing this alternate reality lacks is free will. Nothing is free in Disney World.
It costs about $90 just to walk through the security gates. A cheap plastic sword or plate of nachos are both $7. Mickey Mouse has many mouths to feed.
One cannot help but marvel at the forethought and planning invested into this massive entertainment complex. There was a lot of hard work making the Magic Kingdom a magical experience for a young child.
No one could possibly question that intelligent design was at work.
Frankly, I wish I'd paid more attention in my Management Science class at UGA, so I might more fully appreciate the skill exhibited at queuing people in lines and shuttling them around to desired destinations. The temptation to walk serpentine still lingers, days after our return home.
Disney elevated the basic amusement park experience to an art form.
The variety and quality of transportation was very impressive. There are regular buses, shuttle buses, boats, moving sidewalks, and of course, the Monorail system. Disney knows how to attract customers as well as distributing them to their desired destinations.
The attention to detail from Disney is unparalleled. Special accommodations have been made for handicapped customers on every ride. Even boat rides such as The Jungle Cruise, Pirates of the Caribbean, and It's a Small World have special boats outfitted to handle wheelchairs.
Every effort is made to accommodate special needs for any customer. The priorities at Disney World seem to be fairly straightforward.
Safety comes first. Nobody gets seriously hurt, especially the visitors.
Friendliness comes next. Cast members are trained to exhibit extraordinary courtesy–employees at Disney are trained to think of themselves as "cast members". They are performers, not workers.
The total focus in Disney World is on maximizing the customer's entertainment experience.
There is a huge fireworks display every night as well as a lit and decorated boat float parade, characters greeting children in the street, and of course, all the rides that remind visitors of all the Disney animated movies that made the company famous.
Truthfully, with few exceptions, the actual rides aren't that much different than those you might find at other high-quality amusement parks.
Either a you ride in some form of car attached to arms that raise and lower from a central unit that spins in a circle, a boat, or on some form of roller coaster. It's nothing fancy, except for the animatronic robots representing famous Disney characters. The rides are named for characters in famous Disney movies.
There's Peter Pan's Flight, Winnie the Pooh, Aladdin's Magic Carpet ride, Ariel's Under the Sea Adventure, Pirates of the Caribbean, Dumbo, Gaston's Tavern, and of course, Cinderella's castle.
That attention to little details is what separates Disney from other amusement parks. It's a theme park. While you wait in line, there are plenty of amusing distractions to entertain the kids.
The touch-screen "dripping honey" signs at the Winnie-the-Pooh were as interesting than the ride itself. Space Mountain offered arcade-style video games when the lines grew too long.
Of course, with the Fast Pass line reservation option, lines to the best rides never get too long. You just had to use a strategy to maximize the benefit of the technology made available.
However, the true genius of Disney can be seen in their planning. They have devised practically every conceivable way to separate visitors from their money.
Every rides exits through a gift shop.