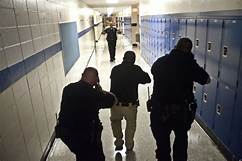 Dear Dr. Youkilis,
With my deepest sympathies, I would like to offer my sincere condolences for the horrific, cold-blooded murder of your niece, even though you wrote that you aren't really interested in hearing them.
As a free society, we have failed both our children and grandchildren, by neglecting to take action after tragic massacres at Columbine and Sandy Hook.  Unfortunately, long after it has become necessary to take action, we continue to disagree about the solution, and what actually needs to be done.
Your letter said:
My family does not want your hopes and prayers. We want your action. Join us in fighting the NRA. Join us in deposing any politician who cares more about campaign contributions than my beautiful Jaime. Join us in supporting leaders who will bravely fight for our children's lives.
It hasn't always been this way. During my childhood, I can only remember one mass shooting on a school campus: "Texas Tower Sniper" Charles Whitman. The media attributed his rampage on a brain tumor. Dr. Youkilis, I can certainly understand your heartfelt desire to see action taken so that tragedies like this should never happen again. However, the assumption on which your demand for action is based is not only impossible, it is also terribly misguided. You seem to have assumed that any scenario involving a civilian with a gun  never has a positive outcome. Video evidence clearly demonstrates the opposite is true.
The video below illustrates the importance of private gun ownership, when a civilian uses his personal firearm to save the life of a downed police officer, in the process of being beaten to death by a suspect.
[WARNING: GRAPHIC CONTENT]
Frankly, you're demanding action that simply will never be supported by a majority, unless a totalitarian regime successfully overthrows the unique form of government created by our Constitution. Otherwise, "the right of the people to keep and bear arms shall not be infringed" is abundantly clear.
One problem with your idea is that there are already more than 300 million legally owned guns in America. This number will increase because demands for more restrictive gun laws boost gun sales, and that is a statistical fact. We already have existing laws that prohibit carrying guns on campus and against murdering children in school, so passing new ones won't help.
In other words, threats to take action against gun ownership only exacerbates the problem, because people only go out and buy more guns to hoard. Blaming an organization like the NRA, created to protect the Constitutional rights of millions of responsible gun owners, won't motivate many people into joining the cause, either. People who believe they need a gun for self-protection or who enjoy hunting won't willingly give up their guns, just because somebody else used a gun to commit a crime.
When a drunk driver kills or maims someone, we do not blame the car. We don't argue that statistics don't matter despite the fact that the vast majority of car owners don't drink and drive and, but a small percentage do, so car ownership must be banned.
That would be completely irrational. When terrorists rented trucks and used them to murder pedestrians on the streets of London and Paris, there were no calls to ban truck ownership or even truck rentals. And in spite of the fact that each attack was carried out by a middle-aged man shouting "Allahu Akbar!" after the fact, the truck rental agencies probably aren't even allowed to discriminate against other customers who might fit a similar description.
However, whenever the tragedy involves a school shooting, for some strange reason, a segment of society focuses their blame on the inanimate object that caused death about as much as person responsible. We already know what happens when government attempts to prohibit gun ownership among private citizens: it's the social experiment known as the city of Chicago.  Yet in spite of the fact that private citizens cannot buy or legally own a gun in Chicago, a four-time felon recently murdered a police officer in cold blood, using an illegal firearm.
The National Rifle Association didn't create Nikolas Cruz. I'm not even a member of the NRA, and it offends me that you assigned blame to that organization for the death of your niece. They didn't put the gun in his hand. It is perfectly understandable that you and your family are very upset right now, but blaming the wrong people for this tragedy won't solve anything.
For this very reason someone coined the cliche that should  guns ever become outlawed, only outlaws will have guns.
According to published reports, Nikolas Cruz was legally able to purchase the weapons used to murder your niece. My questions include, how was this person able to legally purchase a gun in the first place? Media reports indicate that over a seven year period, police were called to his house for complaints on 39 separate occasions. How on earth could that statistic fail to raise any red flags? Only last month, the FBI received a tip that a person calling himself Nikolas Cruz had publicly claimed to want to kill people at a school, but agents somehow neglected to investigate the warnings.
How is this even possible? Doesn't the FBI do anything besides investigate President Trump and Russia? Frankly, it would be impossible to confiscate every gun in America, even if Fourth Amendment protections against illegal search and seizure were ignored in the push to overturn the Second Amendment. It simply isn't a feasible suggestion.
We shouldn't blame the gun, the school, the police, or even the FBI for the actions of Nikolas Cruz. We can blame him personally, or we should blame ourselves for failing to act sooner.
Tragically, however, the warning signs in this case were somehow ignored.
What can we do that is practical, and would help prevent such a massacre in the future? I read one proposal offering that we hire unemployed military veterans and re-train them to provide armed security in schools, keeping our children safe. That would be the ideal win/win situation because it wouldn't simply be "action," it would be meaningful action.
I wish I could take credit for this wonderful idea, but unfortunately I can't even give proper attribution to where I first read the suggestion. But imagine the next person who wants to be a mass murderer at the local high school finds himself facing three or four well-armed, well-trained security officers wearing body armor ready to stop him in his tracks.
The bottom line is this: truly, the problem isn't the gun, but that a person exists who wishes to use the gun to kill innocent people. In the wake of the World Trade Center attacks on 9/11, people insisted that "something must be done," and that led to Congress creating the TSA.
If you really would like something constructive to be done, let's form a common cause and support hiring our military veterans to protect our schools. If you insist on demanding some new law to restrict gun ownership or repeal the Second Amendment I'm sorry, but the life of your niece is not more valuable than the life of the child protected by his mother with her gun. Nor was her life more important than the life of an Arizona state trooper, saved by a brave civilian wielding his personal firearm.
Even if the federal government could take away every privately owned gun in America, people who wish to commit mass murder will simply make bombs instead. I am very sorry for your loss, and more than willing to support the right call to action.
Quite frankly, your demand to eliminate private gun ownership is both unsupportable and impossible. With regret, I must decline your request that I join your call to surrender not only my freedom, but the freedom of every other American as well.  I'm sorry to disappoint you, but I must side with Ms. Hupp on this issue. People must have the right to defend themselves.
Sincerely,
The part of society that respectfully disagrees with you