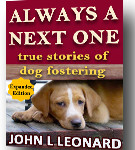 My book Always a Next One: true stories of dog fostering has been named one of four finalists in the Non Fiction/Animals category for the 2013 Readers' Favorite International Award contest.
It's a great honor just to have made it this far.
Authors from all over the world enter the contest each year. More books and authors entered this year's contest than ever before.
One Readers' Favorite review said the following:
"Always a Next One" is a wonderfully written story of a family's involvement with taking in foster animals until their permanent homes are found. Readers who like Herriot's animal stories will be drawn to John Leonard's writings and will want to read more than the sample chapter of dog stories featuring Leonard's beloved Ox at the book's end.The writing in each story is consistent and not maudlin and the animals' characters come through believably. Simone the cat is a cat, not a human in disguise.

However, this year's competition is more formidable than ever. The other three finalists also earned five star reviews.
Furthermore, the judges may decide none of the finalists merited the gold medal. Just because the medals exist for each category doesn't mean they must be awarded.
The winners will be announced September 1st.
Finalists are introduced and invited to the stage. Gold, Silver, and Bronze Medalists also receive a physical award. The banquet will be held November 23rd in Miami, timed to coincide with the Miami Book Festival International.
A visit to Miami in November sounds really nice!